Bicycle Accident Lawyer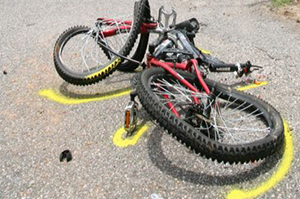 Riding a Bicycle can be a great leisure activity, mode of transportation, and form of exercise, regardless of where you live. However, do so cautiously in the Sunshine State. Since 2001, Florida has led the nation in annual bike accident deaths.
The National Highway Traffic Safety Administration has reported that of the 2,978 traffic fatalities in Florida for 2008, 125 were bicyclists. Nationwide, 716 bicyclists died in 2008, and 52,000 more suffered a bicycle accident related injury. Those figures make Florida the most dangerous state in the nation for cycling, accounting for 1 in every 6 cycling deaths nationwide.
Statistics also showed that most bicycle accidents occur in urban surroundings, and happen most often between 5 – 9 p.m. The vast majority,  (87%), of those killed are male, and the average age of those killed, male and female, was 41 for 2008. A decade ago, the average age was 32. .
Often times bicycle accidents result from motor vehicle operators failing to yield the right of way, as they are unaware that cyclists share the same rights to the road as a motor vehicle.
A major precaution that cyclists can take to reduce the likelihood of a catastrophic injury while riding a bicycle is to wear a helmet.   This is even more important with children, who are typically unaware of traffic rules and regulations. More children ages 5 to 14 are seen in emergency rooms for injuries related to biking than any other sport. Helmets can reduce the risk of severe brain injuries by 88 percent – yet only 45 percent of children 14 and under usually wear a bike helmet. Bicycle helmets have been shown to reduce the risk of head injury by as much as 85%, and the risk of brain injury by as much as 88%.
If you have been injured or lost a loved one in a Bicycle Accident, and require a bicycle accident lawyer, contact us so that we can evaluate your case and recover all of the financial support and compensation required for a lifetime.
Contact Us to Discuss Your Claim