Motor Vehicle Accidents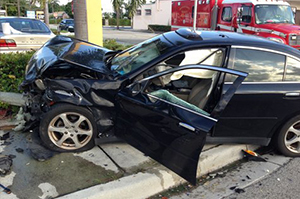 At
ROSELLI ♦ McNELIS
, our Attorneys have successfully represented the injured, and the families of persons killed in thousands of motor vehicle accidents for over five decades.
We have the ability to maximize our clients monetary recoveries
, by our thorough investigation, and extensive  preparation. Our Attorneys are experienced  and  well respected Trial Lawyers, who are prepared to try your case to a jury if we are unable to achieve a fair and just recovery by settlement. 
Richard J. Roselli
, and 
Lisa A. McNelis
, are
Board Certified Civil Trial Lawyers
.
In the United States, each year there are over 2.5 million motor vehicle accidents in which people are injured or killed. Studies conducted by the National Highway Traffic Safety Administration (NHTSA) published in 2014, reflected that of all the States, Florida is ranked number three for people killed in motor vehicle accidents. http://www.nhtsa.dot.gov.
We are experienced handling motor vehicle accidents throughout the State of Florida involving Vehicles of all types, including Car, Truck, SUV, Motorcycle, Tractor Trailer, Rental Car, Recreational Vehicles, as well as accidents involving Pedestrians, Bicycles, ATV's, and Off Road Vehicles.
If you have been injured or lost a loved one in a Motor Vehicle Accident,
contact us so that we can evaluate your case and recover all of the financial support and compensation required for a lifetime.
Contact Us to Discuss Your Claim