Motorcycle Accident Attorneys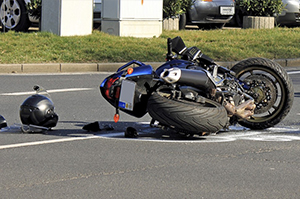 At ROSELLI ♦ McNELIS, our Motorcycle Accident Attorneys have the knowledge and experience from successfully represented the Injured and the Families of those who have been Killed in Motorcycle Accidents.
Many Florida residents are unaware that Florida Law differs with regard to Automobiles and Motorcycles involved in an Accident.
When you ride a Motorcycle your chances of suffering a catastrophic injury are clearly and substantially more likely than when traveling in an automobile. Even minor accidents can cause severe and life threatening injuries. Although it is strongly recommended that riders wear a helmet while operating their motorcycles, it is not required by law in the State of Florida. However, nearly half of the U.S. states require the use of a helmet by law, as it can drastically reduce a motorcyclist's potential for life-threatening traumatic brain injury. The number of motorcycle crashes, fatalities, and injuries in the United States has increased in recent years, and Florida has shown the same trend. According to recent studies and statistical analysis conducted by the Center for Urban Transportation Research (CUTR), Motorcycle injuries have increased by 50 percent and motorcycle fatalities have increased by almost 90 percent during the past decade. During the same period, traffic fatalities have reduced by 20 percent and traffic injuries have reduced by 10 percent.
Factors Contributing to Motorcycle Accidents & Injuries:
Age: The proportion of aging riders involved in motorcycle crashes has been slowly increasing. In 2013, the 55+ age group represented about 20 percent of all motorcycle crashes in Florida which was almost double from 2004. Population: Despite being a popular tourist destination, Florida is now the third most populated state behind Texas and California. 91 percent of motorcyclists fatally injured in 2011 in Florida were also Florida residents. Helmets: Since the repeal of the helmet law in 2000, the number of fatal crashes for every 10,000 registered motorcycles increased by 21 percent, suggesting motorcyclists without helmets are more likely to suffer serious and fatal injuries. Alcohol: The impairing effects of alcohol on drivers of any type of motor vehicle cannot be understated.
Common Injuries & Insurance Coverage Concerns
Common injuries from accidents involving motorcyclists include road rash, fractured, shattered or crushed bones, and even severed limbs, particularly arms and legs. In addition, there are numerous catastrophic injuries including brain damage, paralysis and death Although studies show that helmets are 69% effective in preventing brain injuries, more than half of motorcyclists in Florida choose not to wear one. In Florida, helmets are not required for motorcyclists who are 21 or older, if they hold a health insurance policy with a minimum of $10,000 coverage. This is separate and apart from motor vehicle insurance that the motorcyclist may have. Often motorcyclists are under the false impression that their motor vehicle insurance on their car or truck will cover them for injuries in the case of an accident involving their motorcycle. This is incorrect.
Insurance Coverage Concerns (Cont'd)
Florida is a No-Fault state, in which drivers of vehicles with at least 4 wheels are required by Florida Statute to have Personal Injury Protection (PIP) coverage at a minimum of $10,000. This PIP coverage, will not apply to insured drivers, who are injured in an accident involving a motorcycle. However, motorcyclists can often obtain a separate policy with their motor vehicle insurer for insurance coverage for their motorcycle, including medical payments coverage, and uninsured/underinsured motorist coverage. Although Florida PIP coverage does not extend to motorcyclists for their accident related injuries, that does not mean motorcyclists are not entitled to compensation when injured through another drivers negligence for their medical bills, property damage, lost wages, and pain and suffering, just as other motorists. If your motorcycle accident was caused by negligence of another driver, you have the right in Florida to a personal injury claim against the other driver, and their insurance company immediately. An attorney with experience handling motorcycle injury claims will be best suited to protect your rights and maximize the amount of your compensation for your injuries and damages.
If you have been injured or lost a loved one in a Motorcycle Accident, contact us so that  our Motorcycle Accident Attorneys can evaluate your case and recover all of the financial support and compensation required for a lifetime.
Contact Us to Discuss Your Claim