Pedestrian Accident Attorneys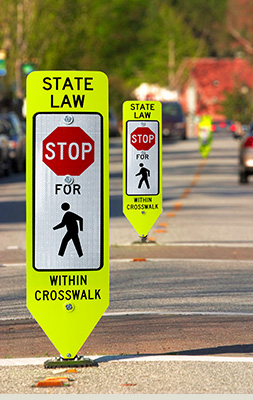 At ROSELLI♦McNELIS our Pedestrian Accident Attorneys have specialized knowledge and experience, and have successfully represented Clients suffering Serious Injury or Death from Pedestrian Accidents. Despite a growing presence of traffic signals, crosswalks, and sidewalks, South Florida is an extremely dangerous area for pedestrians. Too frequently, drivers fail to pay attention to their surroundings and pedestrians are the ones to pay the price. With the ever present rise of the smart phone, distracted driving is at an all-time high, which has also increased the number of Pedestrian accidents nationwide. Pedestrians are extremely vulnerable compared to those injured in vehicle to vehicle collisions, and pedestrians often suffer serious if not catastrophic injuries when they are involved in an accident.
Each year, more than 75,000 Americans are killed or injured in pedestrian accidents, either in marked crosswalks, on sidewalks, or crossing unmarked roads on foot. A 2016 study titled Dangerous by Design by Smart Growth America concluded that Florida is the Most Dangerous State in the Country for Pedestrians. In 2016, Florida had the highest rate of Pedestrian Fatalities per capita and was second only to California in total pedestrian fatalities. In addition, 9 of 15 most dangerous metropolitan areas for pedestrians in the Country are in Florida.
As mentioned above, pedestrian accidents frequently result in severe and permanent injuries. One of the most frequent injuries sustained when pedestrians are struck by motor vehicles has been commonly referred to as a "bumper fracture". This occurs when a car bumper hits the pedestrian's pelvis and legs fracturing his or her bones. Another common injury involving pedestrians occurs when a pedestrian is scooped off the ground by the front of a car and smashed onto the hood and windshield causing traumatic brain injury. To make matters worse, many drivers naturally react by slamming on the brakes, sending the pedestrian off the hood and back to the pavement, causing further injuries.
Our Roselli & McNelis Personal Injury Attorneys have recovered millions of dollars for individuals and families suffering from serious injuries or death as a result of being struck as pedestrians by motor vehicles.
If you have been injured or lost a loved one in a Pedestrian Accident, and require a Pedestrian Accident lawyer, contact us so that we can evaluate your case and seek to recover all of the financial support and compensation required for a lifetime.
Contact Us to Discuss Your Claim